все Акции
15.10.2018 - 10/18/2018
Results of the promotional action "Around the World with your Beloved One"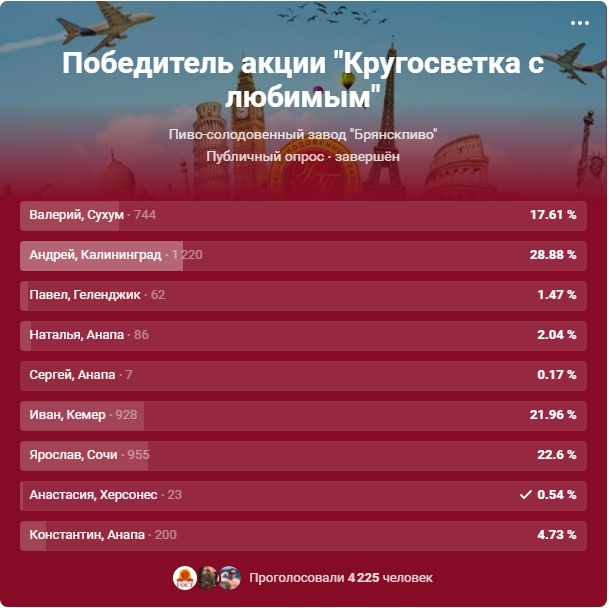 #The "Around the World with your Beloved One"
action is over! Summing up the results!
The turnout of voters in our constituency of holiday-makers was 4225 people, that is a very good voter turnout! Well done!
However, if we had had real elections here we would have had to conduct a second round as none of the candidates managed to gain more than 30% of votes which means that there was a tough and uncompromising competition between the candidates.
But we managed to determine the winner! It was Andrei who took pictures of our products against the background of a nice-looking stadium in Kaliningrad.
His prize for the 1st place is a gift certificate to "Pivnaya Bukhta" restaurant for 3,000 rubles (Beer Bay) + a commemorative T-shirt.
The 2nd place went to Yaroslav who sent us a photo from the capital of the Winter Olympics - 2014. His prize is a gift certificate to "Zavodskoy Bar" (Factory Pub) + brand-name beanbag chair.
The bronze medal was won by Ivan who was the only candidate in the second round of our competition with a photo from a foreign country. His photo taken in Kemer was wonderful and the prize given to him was a gift certificate to "Zavodskoy Bar" (Factory Pub) for 500 rubles + a special gift blanket from JSC "BRYANSKPIVO".
We would also like to name the participants who were not included in the top three. You are cool guys and we were very pleased to receive such atmospheric photos from you! Valery, Pavel, Natalya (and her husband), Sergey, Anastasia, Konstantin – our huge thanks to you and a small consolation prize from us: a package of the "Rye" kvass or "Kolos Non-alcoholic", of which you can pick up any according to your choice.
Prizes can be collected on weekdays during working hours after contacting our manager Irina by phone at
8 (906) 502-25-53
. When calling, please, say that you are a participant of the promotional action "Around the World with your Beloved One".
Our sincere gratitude for your participation again! There will be new offers again! Stay with JSC "BRYANSKPIVO" and win!